Little knowledge of Yuba-Bubble dried Yuba
Yuba is a common food in our daily life. Many people like it very much. There are also many dishes in restaurants outside. The way of cooking Yuba is also varied. It is used for stir-frying or salad. It is very delicious.
But everyone knows that Yuba needs to be foamed. If the foaming is not good, then Yuba may be soft and hard, which will greatly affect the taste. So we must master some skills when foaming yuba. Among them, the water used for foaming Yuba is very important. So when foaming yuba, should we use boiling water or cold water? Today I want to share with you that, when foaming rot bamboo, as long as you learn this trick, the foamed rot bamboo is tender and flexible.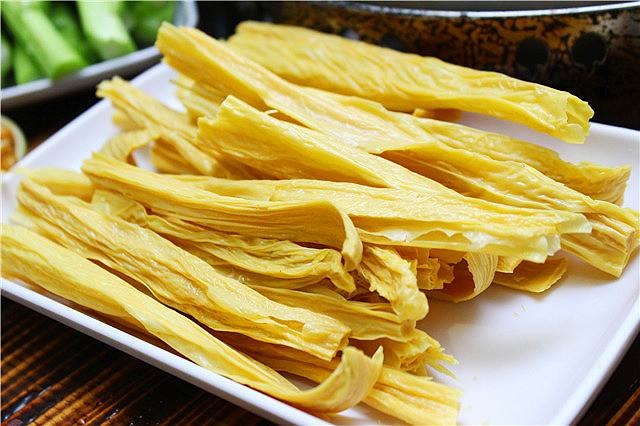 Boiled water or cold water for foaming rot bamboo? Teach you how to do this, the soft, hard and even toughness of the bamboo is big.
1. First, we need to prepare a large pot, then fold the rotten bamboo into small pieces and put them into the pot.
2. Then we add warm water to the pot. We must pay attention to the better foaming of the rot bamboo. What we need to add is warm water instead of cold water.
3. Then add some edible salt or white vinegar to the plate. It only needs a little, so that the bamboo is soft, hard and very tough.
4. Everyone knows that Yuba is very light, so when put in water, Yuba will float on the water. Then we can cover it with a plate, so that we can press the Yuba into the water.
5. Soak the bamboo in this way for about 5 to 7 minutes, and the bamboo is soft and hard, and the bamboo is very tough.
Although the nutritional value of rot bamboo is very high, we must pay attention to people with nephritis or weak kidney function in daily life. It is better to eat less rot bamboo, otherwise it will aggravate the disease. When eating yuzhu, you'd better stop eating honey or oranges, which may affect digestion and absorption.